September 2016
Fun things to do, an affordable cost of living, beautiful natural scenery — is it too much to ask to love the place where we live? Not for the people living in the 20 small towns on this list.
To come up with our list of the happiest small towns in America, we first looked at all of those things that make us unhappy — things like unemployment rates, traffic and lengthy commute times, high costs of living, and crime. Then, we found the towns  had the lowest of these rates, and high average incomes, home ownership rates, and walkability scores. Finally, we narrowed our towns down to just those with fewer than 100,000 people.
1. Ames, Iowa

If variety is the spice of life, it's no wonder Ames, Iowa is one of the happiest small towns in America. Residents of Ames have plenty of choices when it comes to spending a relaxing and family-friendly day on the town. Reiman Gardens is one of Ames' many go-to spots, and residents often go there to walk, picnic, play, and get back to nature. A number of clubs and bars make an evening in Ames just as enjoyable. With so much to do, it is no wonder Ames has some of the lowest stress factor ratings in the country, with a high rate of income, a high marriage rate, and a high home ownership rate to boot. No wonder Ames' city slogan is "Smart Choice."
2. Blacksburg, Virginia

There is a lot to be happy about in Blacksburg, Virginia. Only nine other places in the country rank higher than Blacksburg for home ownership rates, while only 11 other places rank higher in marriage rates. Blacksburg also has the 17th lowest crime rate in the entire country, a statistic that is sure to put a relieved smile on just about anyone's face. For fun, Blacksburg residents love a good evening spent at the theater. Nearby Virginia Tech has a top-notch theater department, while a show taken in at the Lyric Theater is never a disappointment.
3. Burlington, Vermont

Though it's the largest city in Vermont, Burlington has a population of only 42,000 people, meaning its citizens get to enjoy the rare experience of both small-town pride and all the amenities that come with being the biggest. Most of the fun happens downtown, where the four-block Church Street Marketplace fulfills all of one's shopping needs, the farmers' market is set up, and the town's many annual festivals and events occur. The University of Vermont means things are always active, while plenty of weekend fun can be had on the nearby Lake Champlain Islands. Plus, Burlington is the birthplace of Ben & Jerry's Ice Cream, and if that's not happy, we don't know what is.
4. Corvallis, Oregon

Residents of Corvallis, Oregon are some of the highest paid and  least stressed out people in the country. They also have the good fortune of living in a beautiful spot in the Pacific Northwest, in a town that Oregon State University also chooses to call home. Not surprisingly, there is always something going on in Corvallis. The Da Vinci Days festival and the Corvallis Fall Festival are just two of the annual events that Corvallis residents enjoy organizing and attending. On an average evening, many residents can be found around the walkable downtown area, where places like Francesco's Gelato keep a smile on everyone's face.
5. East Lansing, Michigan

Residents of East Lansing, Michigan have a lot to be happy about. Only one other place in the country has fewer people making less than $25,000 a year. Home ownership rates are ninth in the nation, nearly 70% of residents are married, and according to movoto.com, stress factors like traffic and the crime rate are low enough to rank East Lansing 44th out of 391 cities and towns listed. Thanks in part to Michigan State University, which is located in East Lansing, there is always plenty to do. Summer concert series are popular downtown, while the local foodie scene has gained quite a lot of attention in recent years for its restaurants that serve everything from sushi to chocolate cheese.
6. Forest, Virginia

The 10,000 residents of Forest, Virginia are rural and radiant! Located just outside of Lynchburg, Forest has plenty of small town charm in place of the bright lights, traffic, and other metropolitan quirks. Indeed, life is quiet here. While average yearly income is higher than both the state and national averages, the median home price is lower, making Forest a popular place for young families or those just looking for an affordable but quality lifestyle. Thomas Jefferson liked this area so much that he built his summer home, Poplar Forest, here, while New York Giants running back Rashad Jennings also calls Forest home.
7. Frontenac, Missouri

Located among the suburbs of St. Louis, Frontenac, Missouri is one of those places that people find and never leave. Indeed, an amazing 89% of people here own the home they live in, one of the highest home ownership rates in the nation. And while those houses tend to be a bit higher than the state average, a higher-than-average median income helps to make up for that. Besides the conveniences that come with living so close to a vibrant city like St. Louis, Frontenac also has quite the collection of high-end boutiques and restaurants in a fun downtown district.
8. Glendale, Missouri

Glendale, Missouri, a suburb of St. Louis, is perfect for those looking for the pure Americana lifestyle. Community events, such as a dance festival and an ice cream festival, are frequent during the warmer months of summer and autumn. Glendale also prides itself on being a mainly family oriented neighborhood, with good schools and higher-than-average annual incomes and property values. Movoto.com even called Glendale the very best place in all of Missouri to live in its 2014 rankings.
9. Grimes, Iowa

Located approximately 30 minutes from Des Moines, Grimes, Iowa is an affluent community full of happy young professionals. Commuting is easy thanks to Grimes proximity to the bigger city, and the average annual income and the average property value are both higher than the norm (median home price in Grimes is $251,000). Like so many of the towns on this list, Grimes prides itself on being a family-friendly environment. Most houses have big yards perfect for playing, while several parks and ball fields also exist throughout the community.
10. Manhattan, Kansas

Fondly referred to as the "Little Apple," Manhattan, Kansas was recently referred to as the Best Small Community for a Business and Career by Forbes. Money magazine and Livability.com also recognized Manhattan when they named it one of the best places to retire young and one of the best places to live, respectively. Many of Manhattan's 55,000 residents are students at Kansas State University, giving the town a youthful vibe that is never short on fun and entertainment. Still, Manhattan also moves at an easier and slower pace. While residents can enjoy all of the amenities of a big city, they can do so without all of the traffic, high crime, and other stresses.
11. Medina, Washington

Maybe money can buy happiness… Medina, Washington is an upscale and sophisticated small town with a population of only 3,000. According to the last U.S. Census, most of Medina's residents are between the ages of 5-17, not surprising once you consider just how family friendly of an area this is. Schools are top-notch, while community events and involvement are extremely popular. Medina sits on Lake Washington, just across the water from Seattle, so Medina residents have plenty of beauty to surround them. Bill and Melinda Gates have a home here, as does Amazon founder Jeff Bezos. Houses don't come cheap in Medina, though. The median home price is somewhere in the ballpark of $3 million (and climbing!).
12. New Albany, Ohio

A Midwestern gem, New Albany, Ohio is a small Columbus suburb of just over 8,000 people. Whoever planned the town must have loved to walk, because New Albany is a pedestrian-paradise. Most of the downtown restaurants and shopping areas are both easy and a joy to walk to and around. Those who enjoy the theater will love the active performing arts center, while anyone who likes to spend time outdoors will have no trouble finding places to do so. Parks and trails are common throughout the city limits, while New Albany also boasts a 27-hole Jack Nicklaus championship golf course.
13. Normal, Illinois

Normal, Illinois' level of happiness is anything but, er, normal. Residents of Normal enjoy a higher average income than most other places, plus higher rates of both home ownership and marriage. It's also a great place for those who don't like long commute times or sitting in traffic. The presence of Illinois State University also means that sporting, arts, and cultural events are a frequent and cost-effective form of entertainment.
14. Oak Hill, Tennessee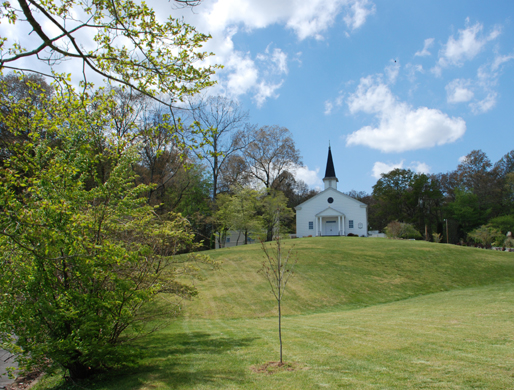 Oak Hill, Tennessee has been described as a "little residential heaven." That's good news for those who live there, and bad news for those trying to get in — 89% of people here own there homes, and houses for sale are few and far between. A town of only 4,600 people, Oak Hill is a suburb of Nashville, the closest place for things like shopping and other necessities. In fact, there is no commercial development at all in Oak Hill. Instead, residents have access to Radnor Lake State Park, a great place for hiking, cycling, and playing.
15. Portsmouth, New Hampshire

One of the oldest municipalities in America, Portsmouth, New Hampshire is home to an inviting community with obvious pride in its town. Redbrick Federal and Georgian buildings line the downtown, while further out, tidy Colonial-era homes surround the town and offer a window to Portsmouth's history as a bustling seaport. On a nice day, locals and visitors alike can be found strolling the centralized Market Square, where there are plenty of cafes, restaurants, art galleries, boutiques, and breweries to enjoy. Live music and festivals are common in the warmer months, while a steady stream of live performances can be seen at The Music Hall, a beautifully restored 1878 theater.
16. Royal Oak, Michigan

Royal Oak, Michigan is an economically healthy Detroit suburb with a youngish population of just over 58,000 (most residents fall between the ages of 24-35). Livability.com ranks Royal Oak one of the top 10 best cities for kids, almost certainly because of the nearby Detroit Zoo, myriad fun annual festivals, and a top-notch school district, among other things. But the adults of Royal Oak have plenty to be happy about, too! The average annual income here is nearly $65,000, much higher than the national average. The cost of living is also reasonable, while the rate of violent crime is some of the lowest around.
17. Sherman, Illinois

A popular retirement community, Sherman, Illinois is a suburb of Springfield, the state capital. Only a little more than 4,000 people call Sherman home, the majority of whom are over age 65, according to the last U.S. Census. Still, it's an active community. Parks and bicycle trails are common throughout the town, while an 18-hole golf course is a popular place to spend a relaxing morning. An impressive 85% of Sherman residents own the home they live in, while the median income is just over $85,000 per year, a number significantly higher than the national average.
18. Sugarcreek, Ohio

Sugarcreek, Ohio is known as the "Switzerland of Ohio," thanks to the German and Swiss residents who moved to the area in droves during the 1800s. The city embraces its international heritage, making it full of unique features. For example, the world's largest cuckoo clock, verified by the Guinness World Records, is in Sugarcreek, as is a cool horse-drawn trolley that offers an easy tour of the town. Sugarcreek residents also have plenty to be happy about when it comes to general livability. Areavibes.com gives Sugarcreek an A+ for both its low cost of living and low crime rate, while higher-than-average income and graduation rates are also things to smile about.
19. State College, Pennsylvania

State College, Pennsylvania is a small college town located in what is known as  Happy Valley. Between that and its stellar statistics, it is no wonder why State College is one of the happiest small towns in America. To be more specific, only about 12% of State College residents make under $25,000 a year, while the vast majority of residents own their own home. To make things even better, State College is one of the most walkable places in the country, and average commute times are well below the national average.
20. Stillwater, Oklahoma

With practically no traffic, a low cost of living, and a minuscule unemployment rate, there isn't much to stress out the residents of Stillwater, Oklahoma, fondly nicknamed "Stilly."   Stillwater residents enjoy a higher-than-average income rate due to diverse sectors like aerospace, agribusiness, biotechnology, manufacturing, publishing, and software all present in and around the town. The downtown district, complete with parks and upscale shopping, is a great place to go for an afternoon or evening out, while Lake Carl Blackwell and Lake McMurtry are both nearby and offer Stillwater residents plenty of recreation options. Fun fact: Stillwater is also the home of the National Wrestling Hall of Fame and Museum.
Click here for a high resolution version of the award badge.